Welcome to the Dental Design Center, Your Westchester County Dentist!
Are you looking for a dentist in Westchester County who can take care of all your oral health needs? If so, welcome to The Dental Design Center! Dr. Ira J. Handschuh is a wonderfully skilled Westchester County dentist who is experienced in performing general, cosmetic, and restorative dentistry procedures.
In fact, our entire team is committed to helping you achieve greater oral health and an enduringly beautiful smile.
If you or a family member could use some dental attention, please call us at our Westchester County dentist office. We will be happy to answer any questions you may have about our cosmetic dentistry, restorative dentistry, and general dentistry procedures.
---
Going to the dentist for regular dental checkups is key to your oral health. In fact, it's just as important as seeing your physician regularly for your medical health. We recommend that you visit your dentist in Westchester County twice a year, so that we can keep your smile bright, healthy, and beautiful.
---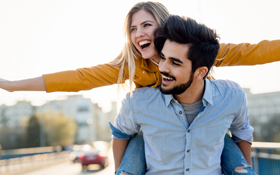 Having a lovely smile can boost your confidence and increase your self-esteem. As your preferred cosmetic dentist in Westchester County, we offer a variety of aesthetic dentistry procedures to help you achieve a memorable smile. We are the cosmetic dentist Westchester County trusts for brilliant results, and we'd love to talk to you about our cosmetic dentistry services.
---
Damaged teeth can ruin your smile. As we age, our teeth can become decayed or worn down. Some adults even lose permanent teeth. Our practice has the restorative dentist Westchester County trusts to help repair their teeth and restore their smiles. To find out more about our restorative dentistry procedures, please call your Westchester County dentist today.
---
Real Patients, Real Experiences
"I've been a patient of Dr. Handschuh for 20 years. He's gone out of his way every time to accommodate my schedule."—Bill
"I feel like I am going to see friends. I am not afraid to go to the dentist."—Marianne
"They are very nice! They got me in the same day and made me very comfortable. All in all a great place to come!"—Gina
Dr. H and his staff are fantastic. They were welcoming, professional and attentive. I would recommend the team to anyone looking for a good dentist in the Westchester area.
I have tried several dentist in Westchester and The Dental Design Center is by far the best; I have stopped searching having found Dr. Handschuh. His office is professional, friendly and inviting. All of his equipment is Immaculate, you can tell he truly cares about the comfort of his patients. No matter the procedure Dr. Handschuh communicates clearly what he is doing and why and is always has gentle as could be. If you are looking for a new Dentist or are new to the area go to Dr. Handschuh you will not be disappointed.
I have been seeing Dr.Handschuh for several years now and I continue to have a great overall experience every time I go. One thing that stands out to me is how thorough Dr.Handschuh is with his work and his cleanings. There is constant communication between us including X-Rays and any future problems that he foresees. From my experience, he is extremely reliable and only has the best interest of his patients. On top of Dr.Handschuh, I appreciate The Dental Design Center in Westchester having a very welcoming staff along with top of the line equipment. The Dental Design Center is always accomadting, whether it is with appointment changes or availability in their schedule. I would highly recommend Dr.Handschuh and The Dental Design Center to anyone looking for reliable and top of the line care.
---
Office Hours
| | |
| --- | --- |
| Monday: | 10:00 AM – 6:00 PM |
| Tuesday : | 10:00 AM – 6:00 PM |
| Wednesday: | Office is closed |
| Thursday: | 8:00 AM – 4:30 PM |
| Friday: | Office is closed |
| Saturday: | 8:00 AM – 3:00 PM |