Dental Restoration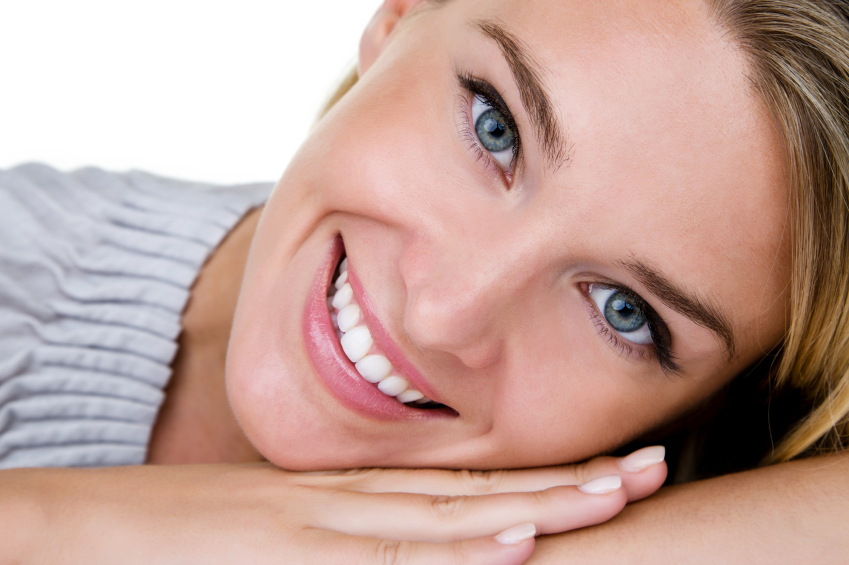 Dental crowns (or tooth crown) and dental bridge treatments replace missing teeth and repair teeth that have significant damage (such as teeth that have fractured, have multiple fillings or have had a root canal).
Thanks to the talents of White Plains cosmetic dentist Dr. Ira Handschuh, his team, and the ceramicist, natural beauty and function can be restored to your smile with ceramic tooth crowns from The Dental Design Center serving Scarsdale, White Plains and all of Westchester County.
Dental Crowns
If a tooth is significantly damaged, broken, decayed, or discolored, Dr. Handschuh may recommend a tooth crown. Dental crowns add new life to your smile and are a simple method to improve the function and appearance of damaged teeth.
Because Dr. Handschuh treats one patient at a time and treats each patient as an individual, each treatment plan is created for each tooth and each situation.
Thus, unlike other dental offices in the Westchester County area, Dr. Handschuh uses a variety of tooth crown types including all-porcelain dental crowns, precious metal dental crowns, porcelain with metal dental crowns, and many others.
Each tooth crown at The Dental Design Center in White Plains is custom made to match the shape, size and color of the surrounding teeth (as applicable) as well as to improve the appearance and function of your smile.
Benefits of Dental Crowns
Dental crowns are durable and long lasting.
A tooth crown covers the entire surface of a tooth and can protect a broken or damaged tooth.
Once your tooth crown is in place, it will perform the same as your natural teeth.
Porcelain dental crowns have a naturally beautiful appearance and are custom made to complement your smile. Our porcelain dental crowns reflect light in the same way as natural enamel, so no one will be able to tell you even have a tooth crown.
Dental Bridge Restorations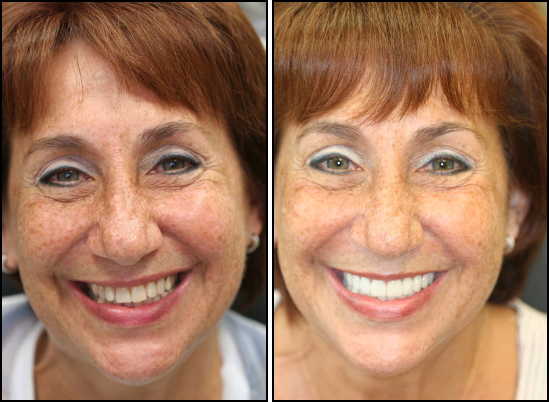 A dental bridge is a non-removable prosthesis that replaces missing teeth or a single tooth by being permanently secured by one or more teeth surrounding a space in a person's mouth.
A dental bridge can be anchored on each side by a tooth crown over a natural tooth or a dental implant.
Scarsdale and White Plains dentist Dr. Ira Handschuh can use a dental bridge to help you achieve the smile you desire.
With his artistic skill as a cosmetic dentist, he will design a dental bridge for you that looks beautiful and blends in with your natural teeth.
The Dental Design Center difference can be clearly seen in these before and after images (click on the image to make it larger). Even though this patient received a dental bridge from a local dentist on both sides of her smile, the bridges were easily visible.
Westchester County dentist Dr. Handschuh created beautiful, a custom dental bridge that now allows this patient to smile with confidence, knowing her smile compliments her natural beauty.
Benefits of Dental Bridge Restoration
A dental bridge provides durability and strength. Using a dental bridge and a tooth crown together is an excellent way to restore teeth that have been lost due to injury, disease or decay.
A dental bridge is versatile as well. Bridges can be used to replace sections of the mouth where there are multiple missing teeth, such as molars. They can also be used to replace just one missing tooth.
A dental bridge has cosmetic benefits. A dental bridge is often a good replacement for a single missing tooth in the front
A dental bridge costs less initially than dental implants. While dental implants provide many more benefits in both oral health and jaw function, the cost is a big factor why many people choose to replace their missing teeth with a dental bridge rather than with dental implants.
Other Restorative Dentistry Services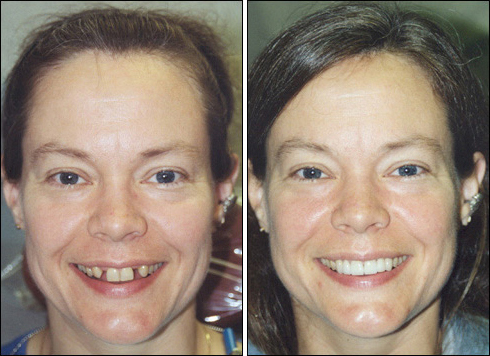 If the surrounding teeth are healthy and in good condition, another option to replace missing teeth is a tooth implant. The tooth implant acts like the root of a tooth creating a permanent solution to missing teeth.
Dental implants can be used with dental crowns to replace individual teeth, with dental bridges to replace one or more consecutive missing teeth, and with dentures to replace a full arch of missing teeth.
At The Dental Design Center, we perform complete dental restorations, including dental crowns, dental bridge treatments, dental implants and dentures. Call us today for a consultation in our White Plains office. Start your path to having a complete, beautiful, healthy smile.
Related Content