Dental Veneer Smile Improvements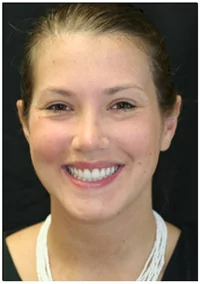 Actual dental veneer patient of
White Plains dentist Dr. HandschuhPorcelain veneers are an excellent choice for many common cosmetic dental issues including discolored teeth, tooth malformations, worn down teeth, gaps between teeth, chipped teeth, misaligned teeth, and fractures in the tooth enamel.
Dental veneers look, feel, and perform just like natural teeth, and can last for decades.
Come to The Dental Design Center near Scarsdale for exceptional cosmetic dentistry and dental veneer services in Westchester County. We create picture perfect smiles.
All of the photos in our smile gallery are actual patients of White Plains cosmetic dentist Dr. Ira Handschuh, so take a moment to look through the examples of the natural care we provide.
Many examples include dental veneers, which are custom made, micro thin, hand sculpted porcelain veneer shells that adhere permanently to the front of your teeth. This can create an instant improvement in the shape, color, and spacing of your teeth.
Benefits of Porcelain Dental Veneers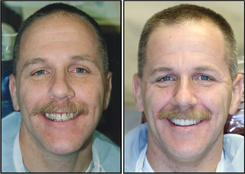 Actual patient before and after teeth veneers
Dr. Handschuh and his team can help you determine if porcelain veneers would be a good choice for you and would help you achieve the results you're looking for. Teeth veneers are often used for the following conditions:
Tooth discolorations
Irregularly spaced teeth (including gaps between teeth)
Irregularly formed teeth
Broken or chipped teeth
Slightly crooked smile
Worn down teeth
Porcelain Veneers Process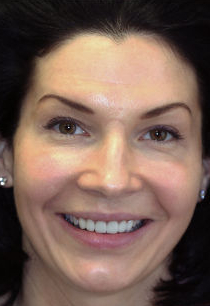 Actual porcelain veneers patient
of Dr. Handschuh, a cosmetic
dentist in Westchester County
The porcelain veneers process begins with proper examination, x-rays, and photographs of your teeth at your appointment to provide each White Plains or Scarsdale patient with a smile created just for each person by Dr. Handschuh and his team.
Thanks to updates in technology, a dental veneer today is a micro-thin slip of porcelain. They are extremely comfortable and can be permanently bonded on your teeth usually in two visits.
---
What Our Patients Say…
I don't believe you can find a kinder or more gentle dentist than Dr. Handschuh. I had many bad experiences in the past and feared going to the dentist. Dr. Handschuh has been my dentist for the past 17 years and has performed extensive work on me. He has transformed my discolored, uneven teeth into a beautiful smile with the use of veneers. He made sure I never felt any pain. If I ever had a problem he made himself available as soon as possible. I totally trust Dr Handschuh. Also, his staff is very warm and welcoming. I highly recommend Dr. Handschuh.
I came to Dr. Handschuh to re-do my veneers after another dentist had done them incorrectly. I was very upset about having to re-do them, but Dr. Handschuh made the process as easy and comfortable as possible. He spent over an hour on the initial consult, listening to my concerns, explaining what needed fixing and how he could fix it, and going through all the possible options. He was honest and upfront about how much could be done and answered follow-up questions I had via email. I appreciated how he laid out everything so there were no surprises, I knew exactly what was happening each appointment, how much it would cost, what the next steps would be and how long it would take. At each appointment, he took all the time I wanted to answer all my (many) questions and even saw me for an additional appointment to answer questions I had about the temporaries I was wearing during the two-week interim period. Dr. Handschuh clearly cares about his patients and the outcomes of their procedures.
Dr. Handschuh is quite simply the best. I consider myself so lucky to have found him, because I had so many issues with my front teeth. They had been chipped, and another dentist's shoddy work left them concave and without my natural enamel, so then my teeth became incredibly stained-and, as a result, they were a total mess. In comes Dr. Handschuh, who completely changed my smile. The precision on getting the front four veneers to match not only the shape of my natural teeth, but the color, was and still is unparalleled. No one can tell these aren't my natural teeth. On top of all of that, he and his staff are some of the nicest, most genuine people you could come across
If you're in search of a professional, competent, and truly talented dentist, Dr Ira will certainly meet your expectations, and then some! I have been his patient for many years and am quite pleased with the work he's done to restore my smile, along with the constant care and concern I receive from his friendly staff. They are always willing to go the extra mile and work with my schedule (he's so wonderful I travel 1.5 hours to see him!) The veneers he provided me with are outstanding, people often compliment my smile which has been a real boost to my self esteem. I can't say enough good things about Dr Ira and The Dental Design Studio. He's changed my life for the better and he will do the same for you too!
Dr. Handschuh and his staff are absolutely amazing. Professional, courteous, and friendly staff made me feel like family. I got porcelain veneers on my four front teeth and was very nervous about the procedure. Dr. Handschuh was very gentle and kind to me. He explained very well what was going on and answered every question I had very thoroughly. I have been to other dentists that exaggerated what my needs were in order to make more money. So it was a relief to find a dentist with integrity. My results were beautiful and very natural which was very important to me. Would highly recommend to anyone!!!
Dr Handschuh gave me the most beautiful and natural smile I could have asked for. 10 years later and my veneers are still amazing! I just love the shape of them.
I contemplated porcelain veneers for several years now. It wasn't until I met Dr. Ira Handschuh that I knew I found the right dentist and that porcelain veneers were the right option for me. From the minute I walked into the office, I was greeted by his professional and friendly staff. Dr. Handschuh knew how nervous I was and that I had many questions, I never once felt rushed, Dr. Handschuh spent a lot of time talking to me and answering all my questions. I left his office feeling comfortable, very relaxed and excited to start the process. Dr. Handschuh not only made sure I was comfortable after the procedure but personally called me the day after to make sure I was feeling ok; he's a dedicated doctor who truly cares for his patients. I would highly recommend Dr. Handschuh to anyone contemplating dental cosmetics.
I visited Ira after moving to the area from the Midwest and I needed a dentist. He came very highly recommended by word of mouth--but I got SO much more than I could have hoped. I was having regular issues with teeth on which I had bonding, but the bonding was 10 years old and on several of those teeth it broke--leaving a gaping hole in my smile. I was always able to quickly get in to see Ira and fix things up. But more importantly, he recommended we remove the bonding and replace it with veneers on my upper teeth. What an improvement! I feel like I can trust my teeth again and don't always have to be fearful of biting into something as simple as an apple. Plus they look great! Thank you, my friend! You've been wonderful.
Best Dental center I have ever been to! World's friendliest staff who made me feel extremely comfortable (& got me over my phobia of going to the Dentist). The results I got were amazing as well! I almost cried of how happy I was with the work they did. Highly recommend this office!
---
Get Dental Veneers in White Plains NY
Porcelain veneers are an excellent choice for many common cosmetic dental issues, including discolored teeth, tooth malformations, worn down teeth, gaps between teeth, chipped teeth, misaligned teeth, and fractures in the tooth enamel. The teeth veneers created by Dr. Handschuh, your cosmetic dentist near Scarsdale, look, feel, and perform just like natural teeth, and can last for decades.
Please contact us today in White Plains to request more information about getting porcelain veneers or to schedule a dental veneer consultation.
Related Content