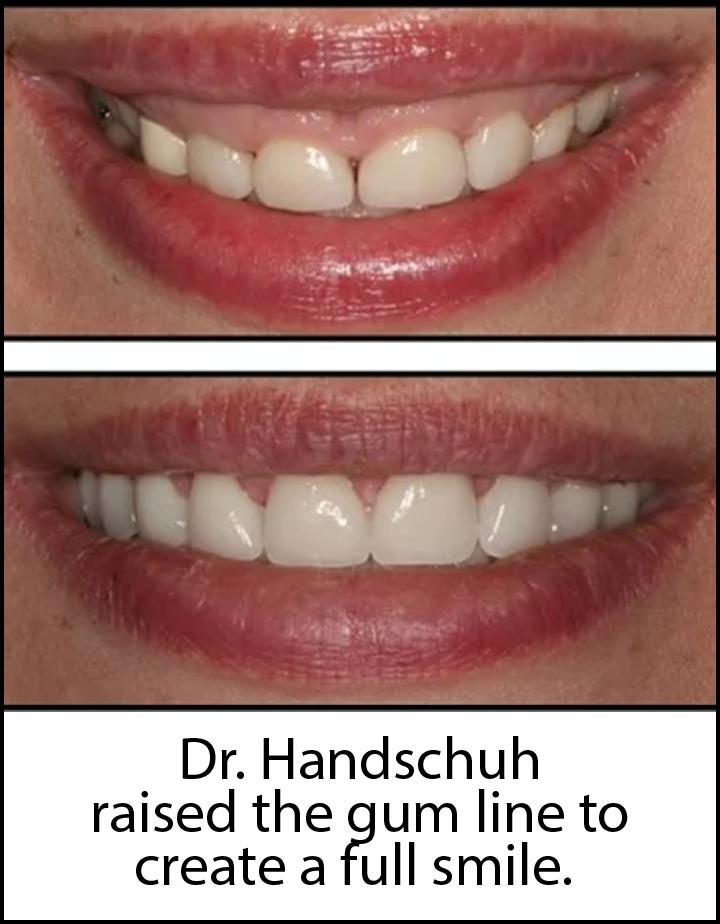 For one to have a beautiful smile, a person needs to have healthy beautiful gums. Not everyone is born with the ideal gums so at The Dental Design Center we always incorporate healthy gums and the care necessary to achieve healthy gums when doing any sort of cosmetic dental care.
When designing someone's smile, it is quite important to have symmetry to the gums as well as pink, non-puffy gums. The healthful appearance assists in creating a natural attractive smile that can last that way for years.
When a patient has unattractive, asymmetric, or less than healthy gums, laser gum contouring or reshaping may be one step in the process to create a beautiful, healthy smile.
When Is Gum Reshaping Needed?
The gum reshaping or contouring procedure is used sometimes on its own to create new shapes to the teeth. Another time we use the laser for recontouring is prior to placing porcelain veneers.
Patients come to us specifically asking for gum recontouring if they have
a gummy smile,
uneven gums which make teeth look unsightly and "odd",
or bulky/unhealthy gum tissue.
Laser gum contouring is also used when a patient has developed a cavity that is below the gum line. The laser allows us to remove gum tissue to expose the entire cavity then a filling can be placed. The gum tissue will grow back as part of the healing process.
Benefits of Gum Contouring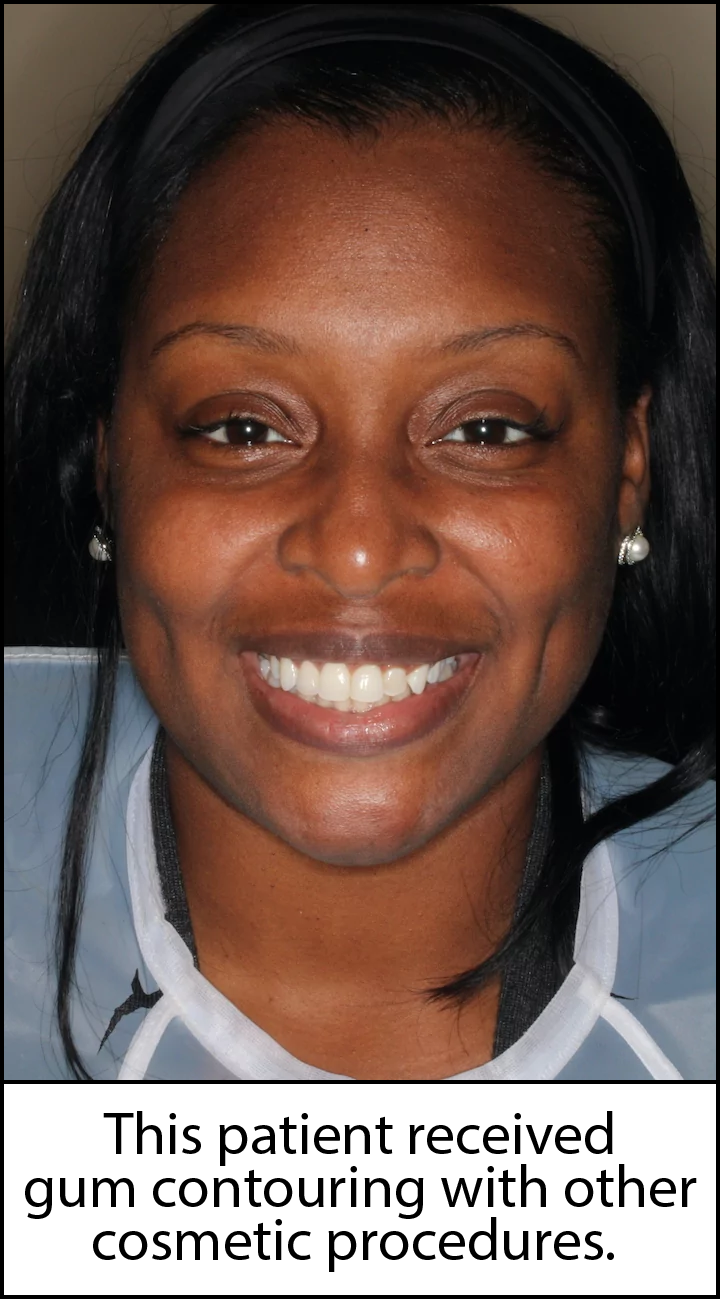 There are many benefits to undergoing the process of contouring the gums. Some of these include:
Increased overall health of the mouth in general. Removing bulky and inflamed gum tissue helps reduce unwanted bacteria in one's mouth thereby making the oral cavity a much healthier environment.
Improved esthetics. Creating symmetrical gum heights improves the overall esthetics in one's smile creating an even "curtain" around each tooth when one smiles.
More self-confidence. Along with an improved smile comes a greater sense of confidence which may often assist one in daily life situations such as jobs and relationships.
The Gum Contouring Procedure
The laser gum contouring procedure is somewhat straightforward yet it requires both skill and artistry. And the results are astounding.
First, Dr. Handschuh will administer local anesthesia (Novocain) and then all staff and patient are given safety glasses to protect one's eyes from the laser.
Just as an artist uses a paint brush, Dr. Handschuh then reshapes and recontours the gums to create symmetry – reshaping to give larger dimension and size to the teeth.
By using the dental laser for this procedure, healing is instantaneous and no unsightly stitches are required.
Does Gum Contouring Hurt?
Upon completion of the procedure, there is very little discomfort if at all. Sometimes post operative discomfort can be described as if someone has eaten food that is a bit too hot and the area the laser was used feels like a subtle burn. or irritation. Most patients don't even require any pain medication but if so, over the counter pain medicine such as Tylenol and Advil suffice.
Next Steps
If you are unhappy with the way your teeth and gums look, talk to Dr. Handschuh to see if laser gum contouring surgery is right for you. Feel free to ask to see photos of the work he has done and review the testimonials of past (and current) patients. We are sure you will like what you see.
Contact our office today to schedule an appointment or a consultation.
Related Content