Teeth Repair and Dental Restoration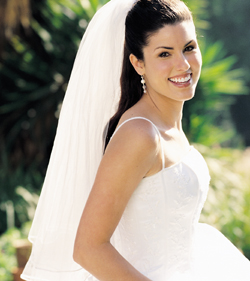 Actual patient of Dr. Handschuh, a restorative and cosmetic dentist in White Plains, NY.Any type of dental procedure designed to restore (or replace) teeth is known as restorative dentistry. This includes a dental crown, tooth colored fillings, dental bridges, and other common procedures.
At The Dental Design Center in White Plains, we serve Westchester County patients in need of restorative dentistry treatments.
Our cosmetic dentistry skills enhance every procedure, whether it's simple tooth colored fillings, a dental crown or a complete smile makeover.
With restorative dentistry services from The Dental Design Center you don't have to worry about your restorations looking out of place in your smile. We carefully craft tooth colored repairs and restorations to complement your smile, create a sparkling dental crown, and create natural looking bridges.
Restorative Dentistry Options
Tooth colored fillings
Repair cavities and chipped teeth to preserve compromised teeth from further decay or damage. Tooth colored fillings blend in with the rest of your teeth to keep your smile's natural look.
Porcelain inlays and onlays
Porcelain inlays and onlays can be an effective alternative to composite fillings or traditional caps. Inlays can be used to repair teeth that have defective fillings or have been decayed or damaged. Porcelain onlays are similar but differ in that they cover a larger portion of the tooth, which preserves more of the tooth than traditional caps.
Dental crowns are a solution to broken, decayed, or discolored teeth that can add new life to your smile. Our White Plains dentist office treats each patient as a unique individual, which means you can be assured that your treatment plan is perfectly tailored to your needs.
Early detection of dental decay
Using LOGICON ® Software by Kodak, our expert team can detect early signs and symptoms of decay, which greatly increases the chances of saving your teeth with minimal cost and stress.
If you are missing one or more teeth, a dental bridge can be a great permanent solution to restoring your smile. Securing a replacement tooth to the surrounding teeth, Westchester County dentist Dr. Handschuh creates a beautiful, custom fit dental bridge that gives you the confidence to show off your smile.
Broken/Cracked Teeth
Westchester County dentist Dr Ira Handschuh can help restore both the appearance and functionality of your broken or cracked teeth. Often, tooth-colored fillings can be used to fill in small chips or cracks in the tooth creating natural-looking teeth. Sometimes however, endodontic treatments, (root canals), may be necessary. This involves removing the damaged or infected tissue inside the tooth, then filling and sealing the tooth to prevent further damage. Dr Ira Handschuh at our White Plains office is experienced in both of these treatments and can help you determine the best option for your broken or cracked teeth.
Implant-supported dentures are another stable, secure option for replacing teeth. Unlike traditional dentures, implant-supported dentures are secured with an anchor to decrease slipping and gum irritation.
Invisalign clear braces are a comfortable, appealing approach to straightening teeth. Dr. Ira Handschuh in Westchester County offers teen and adult patients an innovative alternative to traditional braces. Effective and virtually unnoticeable, Invisalign clear braces straighten your look while keeping your smile looking natural.
Patient Comfort and Convenience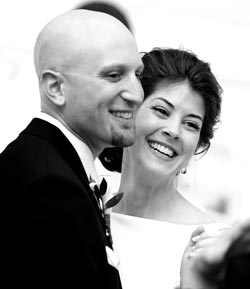 Actual patients of The Dental Design Center of Westchester County.At The Dental Design Center in Westchester County near Scarsdale, we take the time to take the fear out of dental procedures.
We schedule just one patient at a time, which creates a relaxed environment where our staff can focus on you and your needs and comfort.
Dr. Handschuh understands the concern many patients feel about involved procedures, budgetary concerns, and dental anxieties. He offers experienced restorative dentistry treatment such as a dental crown or tooth colored fillings and cosmetic dental treatment in a calm, nurturing environment in White Plains.
Our Five Star Concierge Service includes complimentary drinks, massage pillows, warm towels, a variety of entertainment choices, as well as telephone answering service throughout your visit.
Patient Car Service & Follow Up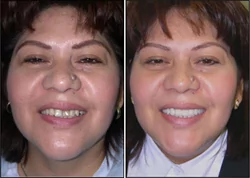 Actual dental crown patient near Scarsdale.We offer car service (pick up and drop off) for Scarsdale and Westchester County patients traveling from a long distance or undergoing significant care. We also offer follow up calls after each procedure to make sure that all your questions have been taken care of and that you are feeling well.
Related Content