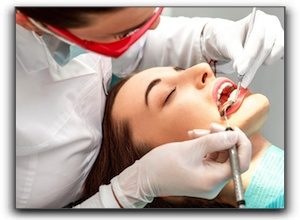 Picture the following: You are stretched out in a chair at the dentist's office while a dental assistant snaps a paper bib around your neck. Someone clicks on a bright overhead light and you see latex-gloved hands moving toward your open mouth. You close your eyes.
How does this affect you? Does your heart start to beat faster? Are your palms sweaty?
If so, you may be a good candidate for sedation dentistry. Sedation benefits nervous dental patients every day. At The Dental Design Center in White Plains, we offer nervous patients nitrous oxide.
Nitrous oxide, commonly known as laughing gas, puts you in a state of great relaxation. It's been used in dentistry for more than a century. If you are planning to undergo extensive restorative or cosmetic dental work, nitrous oxide may be just what you need.
Don't let fear keep you from getting the dental treatment you need. As us at The Dental Design Center in White Plains about nitrous oxide. We provide general dentistry. Make an appointment with us today.
Contact The Dental Design Center – Ira J. Handschuh, D.D.S.:
Location (Tap to open in Google Maps):